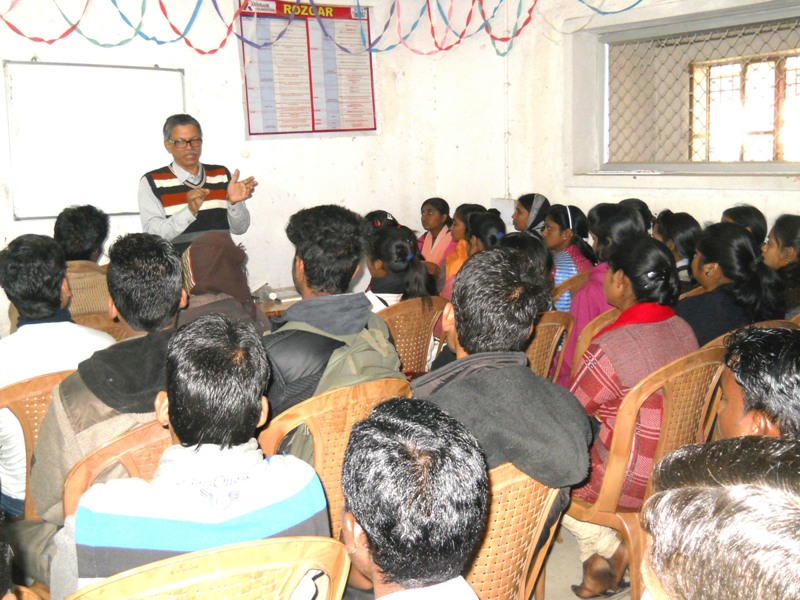 23 January 2017, Hazaribag: Mr. Vibhuti Bhushan Nayak (DDM-NABARD) has visited at Rozgar Training Centre run by NBJK with support of Axis Bank Foundation, Mumbai. He has addressed trainees from the courses of Computer Software-Hardware, Mobile Repair, Bed Side Patient Attendant, Tailoring and Beautician to share upon government policies like Make in India, Standup India and Startup India for promotion of self-employment as well as entrepreneurship.
Mr. Nayak has explained about Mudra Loan Scheme under Startup India that lends amount up to Rs. 50 thousand, Rs. 5 lacs and 10 lacs within three slabs called Shishu, Kishor and Tarun. These loans are with low interest rate and can be provided to RTC youths also if they want to transform their skill into entrepreneurship, he assured. The DDM has stressed upon the characteristics like discipline, self-respect, time management, humbleness, honesty etc. and warned the youths against the mentality to get anything free, wastage of things, following someone blindly and to show off unnecessarily.
He has placed example of some trader communities like Panjabi, Jain, Madwaree and Jewish those deserve close observation to learn many more regarding business. He appealed the youths to be self-employed and to offer employment for others. There were 166 RTC trainees and 7 faculty members as audience of this motivational talk organized by RTC. Mr. Rupesh Mallik (Centre Coordinator) has anchored the program and expressed sincere gratitude to Mr. V. B. Nayak, the guest visitor.