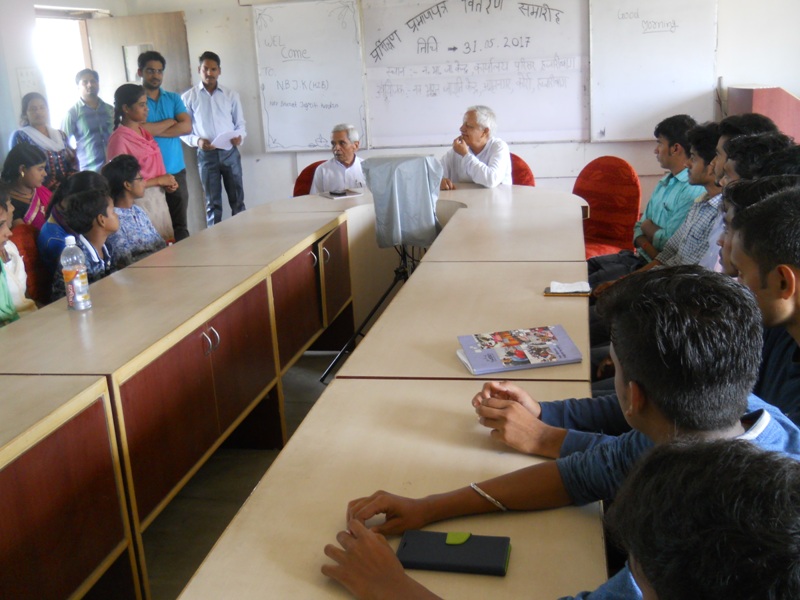 31 May 2017, Amrit Nagar (Hazaribag): The 4th batch trainees of Skill for Life program supported by HSBC & Swades Foundation-Mumbai have received their Course Completion Certificates during a simple ceremony organized at NBJK premises. On this occassion, Mr. Girija Satish (President, NBJK) has asked them about advantages of 2 months residential courses on Basic Computer Applications (BCA), Bed Side Patient Attendants (BSPA) and Mobile/Cell Phone Repair they gone through during April-May. He appreciated the efforts of youths to get job or self-employment and said that there may be some problems at the begining of career but enthusiasm ensures success finally. Every job or work has own dignity and discipline with cleanliness & team work make it qualitative, he said.
Mr. Prabhu Nath Sharma (Program In-Charge & Treasurer-NBJK) has facilitated the function and told the trainees to share their  training experience. Many trainees like Punita Kujoor, Kajal Kumari, Shruti Kumari, Subodh Raj,  Mohit Nikhil, Sujit Kumar, Bela Tirky, Meena Devi have valued the training for learning of something new and helpful. Some of them have drawn attention towards difficulties at their work place through On Job Training (OJT) and training contents. They were assured for way out.
Mr. Girija Satish and Mr. Prabhu Nath Sharma have distributed certificates among them. Mr. Kirti Rawat (Placement Officer) has informed that 9 out of 16 trainees of BCA have been placed with Vodafone, Aegis and Sreeleathers at Jamshedpur. 22 among 26 BSPA trainees got placement at different private nursing homes/hospitals like Mercy, Jeewan Anmol, Arya, Jeewan Kalyan, Maheshwaree at Hazaribag and Ramgarh while in the trade of Cell Phone Repair, 6 youths have decided to start their own service center and 4 are placed with private enterprises.