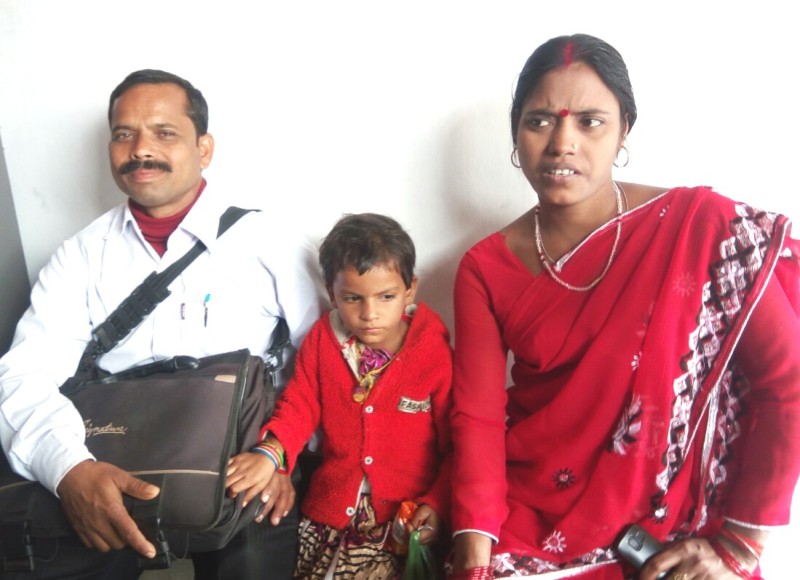 9 November, Chouparan:  In that fine morning, Childline 1098 was informed about an unknown girl child wandering in the streets of village Beddhna-Bara on Chouparan-Chatra Road. Mr. Mahesh Kumar Gupta, a vigilant villager has called to 1098, the toll free number of Childline about the child and waited till arrival of Childline team members Mr. Narayan Rajak and Mrs. Punam Devi who found the child safe under their protection. They were supported by local people and the child was taken for medical test at Community Hospital at Chouparan block headquarters. She was declared safe and all right by the doctors.
Then Childline team has reached to Chouparan Police Station to inquire about whereabouts of the girl child as she couldn't be able to say anything concrete about herself. In the meantime, this news was flashed by NBJK volunteers and link persons in adjacent villages. Finally, they could find family members of the child in village Chakrasaar, about 4 km distant from village Beddhna, where she was noticed by Mahesh, the man who has informed Childline to take action. The child was recognized as Nandini Kumari, who came with her mother Babita Devi at maternal grandma place in village Chakrasaar during Chhath festival. Mr. Prakash Prajapati & Mrs. Dasiaa Devi are her maternal grandparents and they all were much worried naturally.
At 4 pm, they reached at Chouparan Police Station with local PRI members and proper Identity Proof to receive Nandini. She was handed over to her guardians carefully under auspices of Childline 1098 run by NBJK in this area.