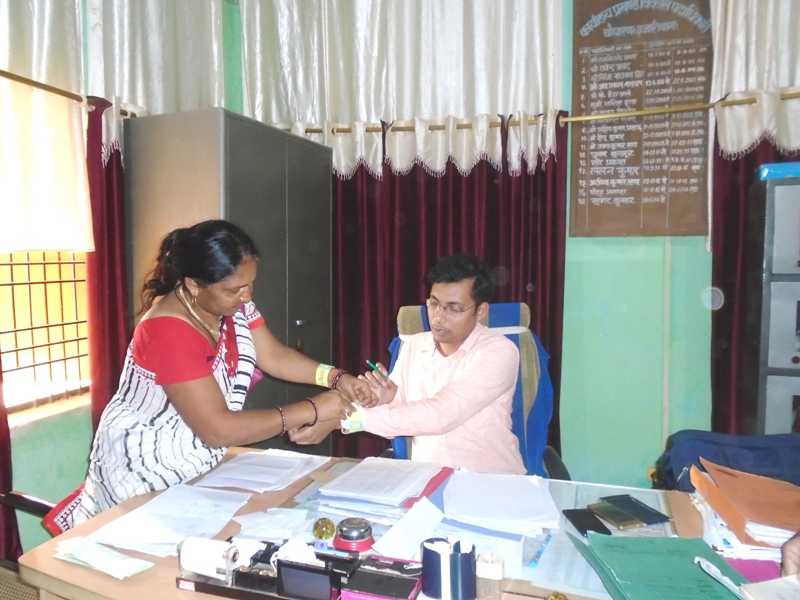 14-20 November, Chouparan: Childline India foundation, Mumbai supported and NBJK run Childline Sub-center, Chouparan has launched a campaign Childline Se Dosti or Friendship with Childline at different public places of Chouparan and nearby places. Childline team members have contacted people; collected their signatures in favor of Child Rights, distributed informative handbills and briefed them about the program.  Also they clasped designer wristbands with message about this campaign.
On 14th at LNJP Eye Hospital, Bahera (Chouparan), many eye patients & carers, doctors & hospital staffs were part of this campaign. Mr. Gandharv Gaurav (Program Director, Eye Care) has graced the occasion and supported this initiative for a safe childhood. On 15th, Childline team has contacted Auto drivers at Chatra Auto Stand, Chouparan. They were facilitated towards rights of children and Childline1098. Handbills and wristbands were distributed among auto drivers and passengers. Childline Se Dosti campaign was held at Barhi block & Sub-divisional hospital on 16th and many government officers like BDO, CO, CDPO, doctors and police inspector as well as their visitors have been contacted over the issue of Child Rights. On 17th, Childline team has reached at Orphanage School, Barhi, met children & teachers and talked about this friendship campaign.
Administrative offices and officers of Chouparan block were contacted on 18th November under the campaign while children of Government Primary School, Bedhnabara (Chouparan) have received Childline team, heard the message carefully and organized a cultural program to welcome the initiative on 19th. Childline Se Dosti campaign ended on 20th November at Kendua More Auto Stand, Chouparan, where common people and transporters have been sensitized upon Child Rights and about use of Childline1098. Mr. Narayan Rajak, Mrs. Maya Mishra, Mrs. Poonam Devi and Mr. Navratan Pandey have comprised the team and Mr. Veerendra Sinha has led them for campaign.