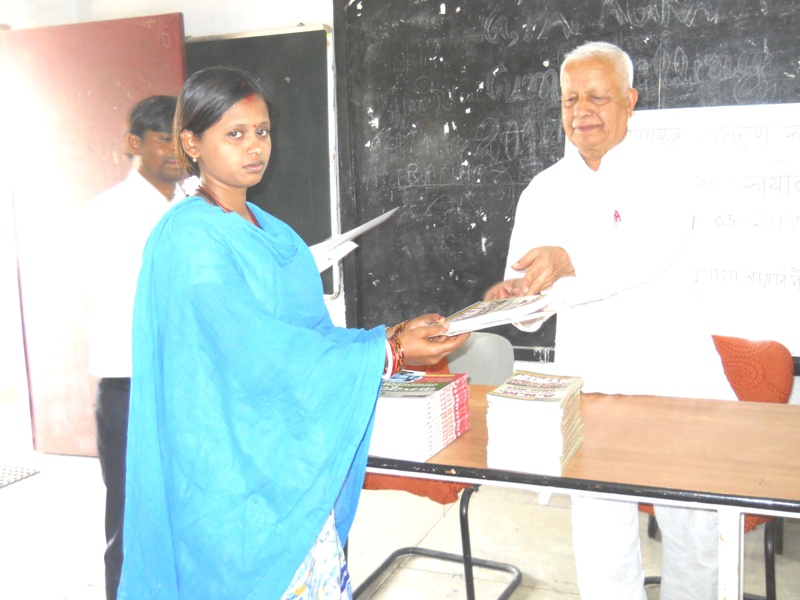 31 March 2017, Amrit Nagar (Hazaribag): 49 trainees of 3rd batch from Residential Rojgar Training Center were distributed certificates at a formal ceremony held at NBJK coordination office meeting hall. The RRTC is being supported by Swades Foundation, Mumbai & HSBC Ltd.
Today these youths have completed their two months training in the trades like Bed Side Patient attendant (BSPA), Mobile Repapir and Basic Computer Application. Mr. Girija Satish (President, NBJK) has presented them course completion certificates with best wishes and addressed the trainees on this occasion. He said that competent people are always in demand and we should enhance our ability. There is an impression that desciplined, truthful, simple and honest people are fools but these are basic qualities we neet to be successful, he added.  NBJK president has motivated the youths to get more knowledge related to their skills besides livelihood opportunity offered to them. Mr. Prabhu Nath Sharma (Treasurer, NBJK) has talked about descipline which reflects through our manners and behavoiurs. He counselled the trainees to adopt good habits and to shun the bad ones as they are responsible citizens of India.
The certification ceremony was anchored by Mr. Lalan Saw (Mobilizer) who appreciated positive attitude to defeat various problems. Mr. Kirti Rawat (Placement Officer) has informed that out of total 49 trainees, 17 from BSPA, 10 from BCA and 8 from Mobile Repair courses have been offered for placement and few trainees of Mobile repair may start their own business, he said. All the trainees have thanked NBJK management for their fruitful  learning and training during last two months.