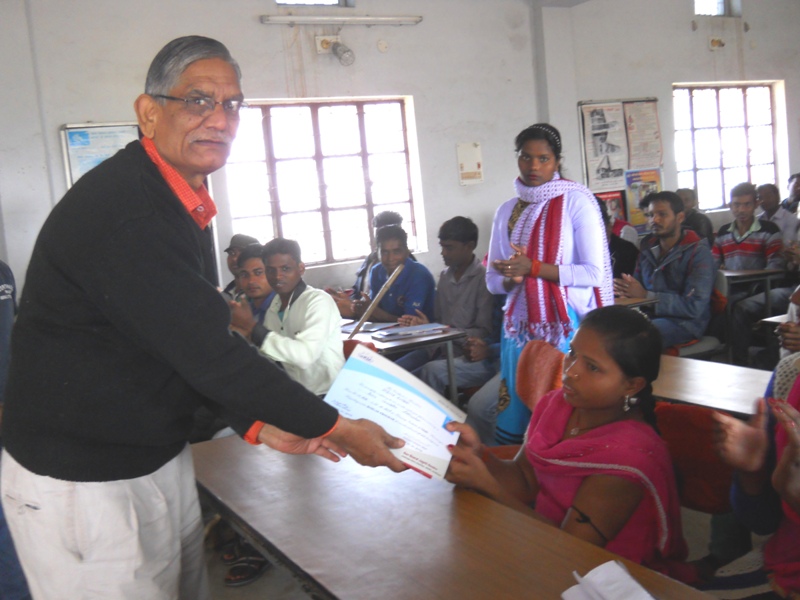 31 January 2017, Hazaribag: The 2nd batch trainees of Residential Rozgar Training Centre have completed their two months training on the skills like Basic Computer Application, Mobile Repair and Bed Side Patient Attendant. They were presented certificates by Mr. Satish Girija (Secretary, NBJK) and Mr. Prabhu Nath Sharma (Treasurer, NBJK) on the very completion day of this training.
Mr. Satish Girija has emboldened them for future and asked for their feedback about classes as well as lodging-food or leisure time. He discussed about self-reliance, service and social responsibility for youths and assured them for support at their work place also if needed. Mr. Prabhu Nath Sharma has requested the pass out batch to follow some rules for self-discipline, character making and time bound performance in future. Also he encouraged them to learn advance skills in their trades for long term advantage.
There were trainees like Priti Verma (Oriya), Shanti Kumari (Latehar), Akash Vishwkarma (Giridih), Dilip Kumar Ravi (Churchu), Ravi (Tandwa), Jageshwar (Koderma), Sangita (Barkagaon), Shama Parveen (Ichak) who shared their experience. We have missed inputs to improve our spoken English and expected for sports facility, they said and praised smart classes for better understanding. The batch has comprised 66 trainees including 6 PwDs and 47 (BSPA-26, Mobile Repair-8, BCA-13) among them have got placement at Ranchi, Durgapur and Hazaribag. The certification ceremony was facilitated by Mr. Lallan Saw (Mobilizer) and Mr. Kirti Rawat (Placement Officer).