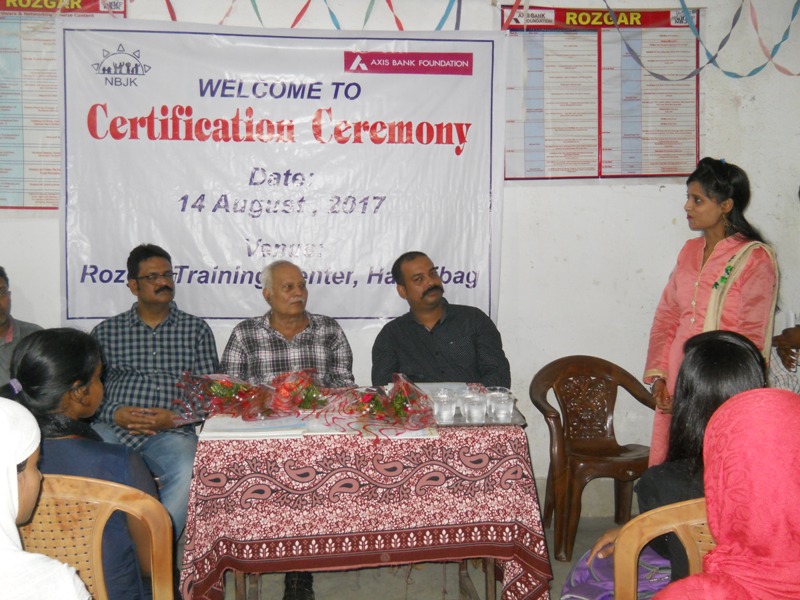 Hazaribag, 14 August 2017: Around 200 trainees from 5th to 10th batches of Rozgar Training Centre (RTC) were distributed their course completion certificates in a simple ceremony organized under the Program of Sustainable Livelihood (PSL) with support of Axis Bank Foundation, Mumbai. Dr. B. P. Sinha (District RCH Officer), Mr. Rajiv Bagga (Proprietor, Kshitij & Aushman Hospitals), Dr. Mukesh Kumar (Lecturer of Economics, St. Columba's College) and Mr. Anand Singh (Administrator, CP Plus Securities) were distinguished guests on the occasion.
Dr. B. P. Sinha has applauded the short term vocational courses offered by RTC and noticed about capacity building of youths, particularly women that provides them space for employability. Mr. Rajiv Bagga has called RTC as an important learning center for rural youths and appreciated its Bed Side Patient Attendant (BSPA) course that enables many to get jobs in health sector. Mr. Anand Singh has encouraged the trainees and offered them jobs at his organization. Learning of professional skills is must to have economic self-reliance and RTC adds an edge to such aspirants, Dr. Mukesh Kumar said during his address. Few trainees like Laxmi, Rachna, Lalita, Shama, Ajit, Abhishek too have shared their experiences during the gathering.
It's significant that RTC runs 3 months short but practical courses in the trades of BSPA, Beautician, Tailoring, Computer Software-Hardware and Mobile Repair for youths. Normally 75% of them get placement and some others start their own business also. The RTC team by Mr. Rupesh Mallik (Center In-Charge), Mr. Kirti Rawat (Placement Officer), Mr. Ankit Anurag, Mr. Lalan Saw, Mr. Subodh Kumar, Mrs. Shalini Jha,  Mrs. Anjana Sinha and Mrs. Sunita Kumari (all faculties) were present in the event.