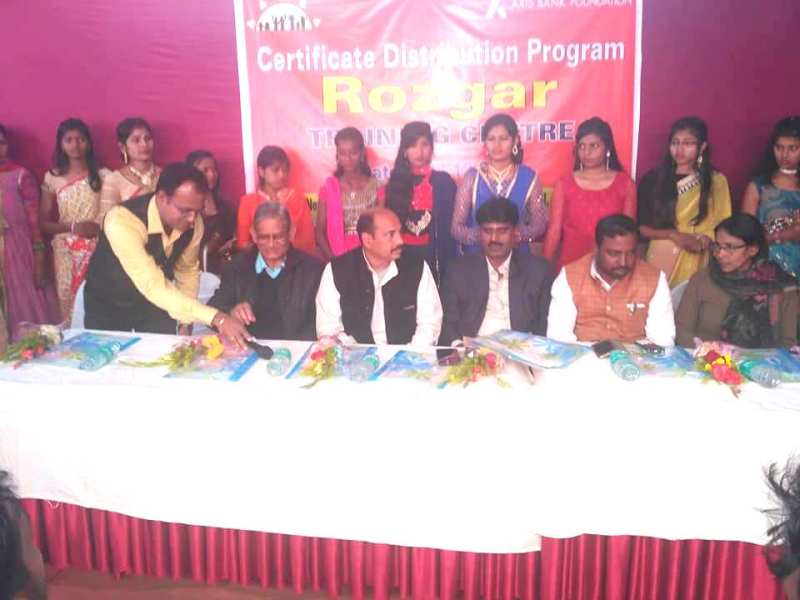 28 December 2017, Giridih: 125 trainees of Rozgar Training Centre at Giridih have received their course completion certificates in a function held at RTC premises. These youths belong to 7th batch of RTC being supported by Axis Bank Foundation under the Program of Sustainable Livelihood. They have completed their 3 months courses like Basic Computer Application, Tally, Beautician, Tailoring, General Duty Assistant, Mobile Phone Repairing & Electician.
On this occasion, Mr. Satish Girija (Secretary, NBJK) has greeted all the guests and trainees present in the gathering. As chief guest of this ceremony, Mr. Kameshwar Paswan (Vice-Chairman, Giridih Zila Parishad) has praised NBJK for the programs on Skill Development Training to youths and Rights to Differently Able People in the district. he emboldened the youths for self-employment and placement with help of the skills they learnt here. As the special guest, Mr. Dinesh Yadav (Chairman, Giridih Nagar Parishad) has appreciated updated outfits and bridal makeup demonstration by RTC trainees. This shows the quality of training and trainers also, he added and conveyed his best compliments to the passing out batch. RTC has invited representatives of two local potential employers like Vishwanath Nursing Home and City Care Hospital as the special guests for this event. Mr. Dokaniya (Vishwanath Nursing Home, Giridih) admitted that RTC trained girls do better as General Duty Assistant and he offered support for further On Job Training & placement for such trainees. As well as Mr. Sameer Choudhury (MD, City Care Hospital, Giridih) has applauded the way RTC provides training to youths in different trades. He promised to provide a sewing machine to RTC for tailoring training.
Mr. Anjani Kumar Sinha (Giridih Branch Manager, NBJK) and RTC faculties like Ms Rumana Azmat, Ms Gudiya Kumari, Mrs. Shilpa Devi, Mr. Pramod Kumar Turi and Mr. Sunny Zafar have participated actively in the certificate distribution ceremony.