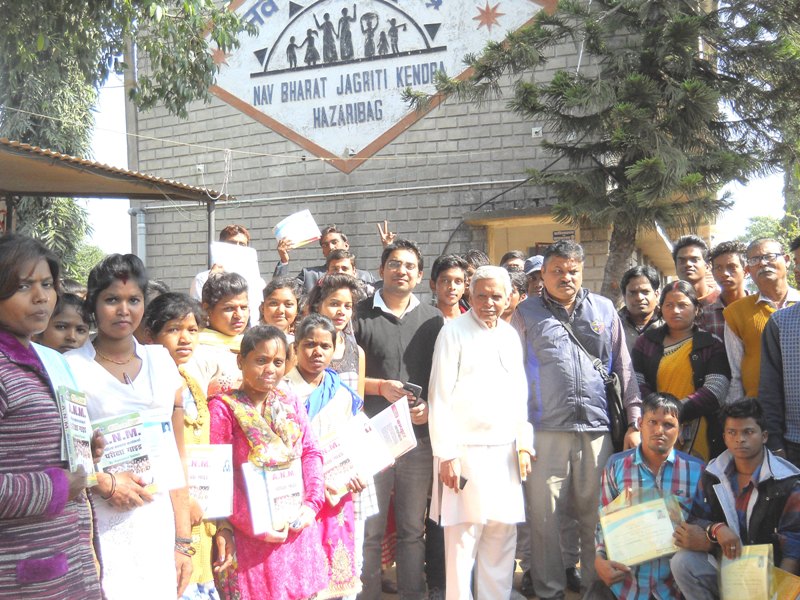 30 November 2017, Hazaribag: The 7th batch trainees of Skill for Life program by NBJK with support of HSBC – Swades Foundation, Mumbai, have received their course completion certificates and placement offers today. Mr. Prabhu Nath Sharma (Treasurer, NBJK) has distributed certificates among them and said that these youths are supposed to equip themselves with not only professional skills but with the qualities needed for empowered citizenry also. He appealed the youths to develop self-confidence and positive approach for success.
Mr. Rupesh Mallik (Center Manager, RTC – Hazaribag) has appreciated Skill for Life program for enty level jobs and this should be tapped by youths, he pointed out during the function. On this occasion many trainees like Anjana Topno, Sinki Kumari, Dilip, Sonu have praised discipline, self-dependence, low cost management, more knowledge in less time etc. as main features to make the program different. Mr. Kirti Rawat (Placement Officer) has informed that there were 46 trainees in the batch as 24 for General Duty Assistant, 10 for BCA and 12 for Mobile Servicing. Out of these, 22 from GDA, 8 from BCA and 10 from Mobile Servicing have got placement or self-employment now. He said that most of our trainees like Vikas and Rakesh from BCA, Champa, Bulbul, Manita Hansda, Pranjali from GDA and Naurangdev, Lalan, Kaushal and many more have livelihood options now. These youths have been instructed to inform us in case of any problem at their work place for timely intervention, he affirmed.
Also faculty members like Mrs. Sandhya Kumari, Mr. Subodh Kumar, Mr. Amar and Mr. Rohit were present in the certification ceremony. Skill for Life provides 2 months residential skill development training in Basic Computer Application, Mobile Servicing and General Duty Assistant (Health Care) to youngsters belong to remote villages. The program is known for it's high placement ratio.