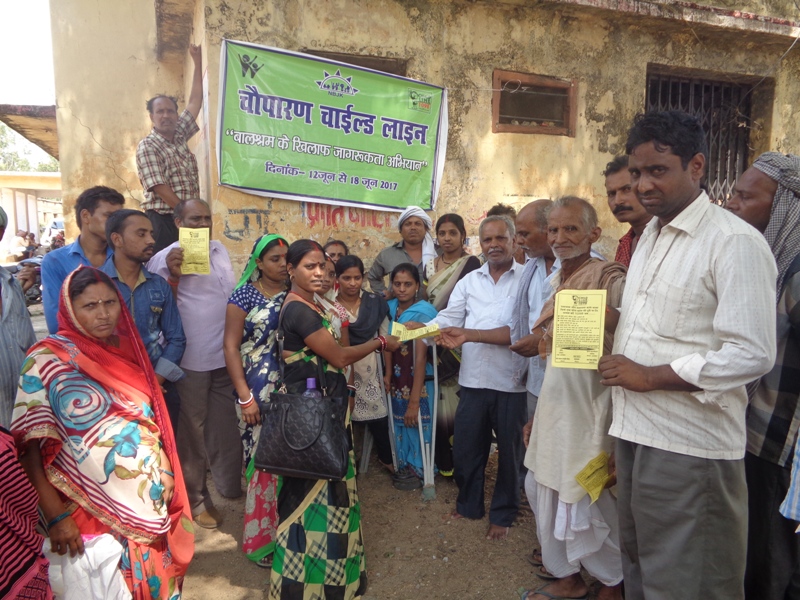 12 June – 18 June 2017, Chouparan: Childline India Foundation, Mumbai supported Childline1098 Sub-centre by NBJK at Chouparan has launched a week long campaign against Child Labour. Chouparan based government officers like Mr. Amit Kumar Shrivastava (Block Development Officer), Mrs. Savita Kumari (Child Development Project Officer) and Mr. Lalkeshwar Singh (Child Welfare Police Officer) have supported the campaign and discussed about their active roles during any operation if required.
The campaign team has organized a quiz competition among children of Government Middle School, Singhrawan and promoted them against Child Labour. There was a meeting with Aanganwadi Sewikas at CDPO Office, Chouparan and they were sensitized towards intervention in the case of Child Labour. The Childline team has visited roadside dhaba- hotel operators and appealed them to shun recruiting children as daily wage labourer.
Also they distributed thematic handbills at all important nook & corner around Chouparan and disseminated the message amid mass. Mr. Birendra Kumar Sinha (Team Leader) has led the campaign comprised with Mrs. Punam Kumari, Mrs. Maya Mishra, Mr. Narayan Rajak and Mr. Navratn Pandey (all team members).