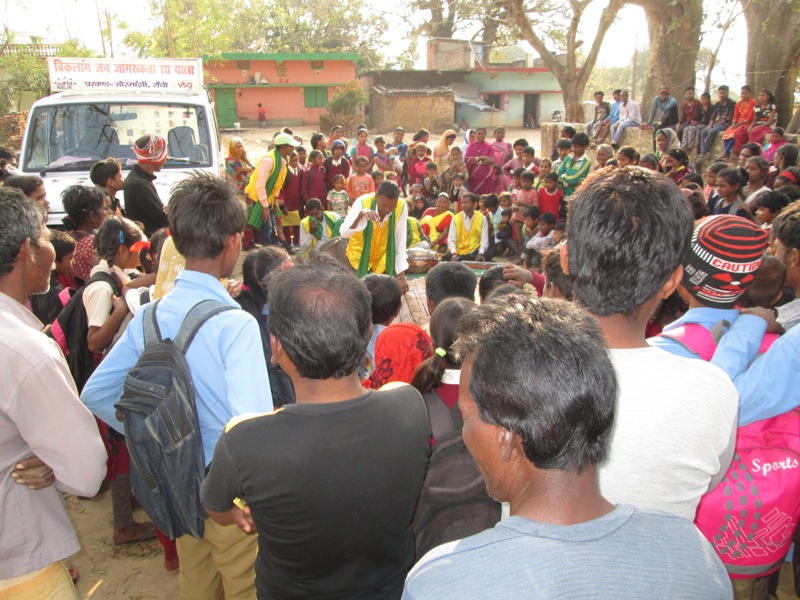 14 February 2018, Ormanjhi (Ranchi): NBJK has launched a Mass Awareness Campaign for People with Disabilities across 80 villages of Ormanjhi block in Ranchi district. This is being supported by VSO India Trust, Delhi and named as Viklang Jan Jagrukta Rath Yatra.
The campaign over Rath (a MUV car) covered with posters upon Disability issues became a centre of attraction for rural community now. This is in progress from 29th January with a 9 members team including one campaign coordinator, a mobilizer and a group of folk artists. The Rath visits 2 villages each day after prior information dissemination by the mobilizer. The campaign team identifies Children or People with Disabilities, make people aware of rights & entitlements for CwDs/PwDs, ask for the services/schemes they avail or denied and distribute issue based ICE materials like booklet, posters, handbill etc. among villagers. This is a campaign towards demand creation and access for the services made for any person with disability. The folk artists present campaign's theme before villagers beautifully in their own dialect with song & music-drama and sensitize them to be responsive.
The Viklang Jan Jagrukta Rath Yatra has covered 25 villages till today and total 217 CwDs/PwDs of OBC/SC/ST/Muslim communities have been identified during this period, Md. Nayeem (Campaign Coordinator) has informed from the field. He said that these people are in need of disability certificate, pension, assistive devices (wheel chair, tricycle, hearing aid, crutch, calliper, CP chair, artificial limb), old aged pension, skill development training, sewing machine, medical treatment, education etc. and we mention such detail in the data sheet.
The VJJRY has passed through villages like Chakla, Kurum, Tirla, Bundu, Madhukama, Ganeshpur of Chakla, Chutupalu, Chandra, Jaidiha, Barwe and other panchayats of Ormanjhi block. Mr. Teerath Nath Mahto (Mobilizer) and cultural team led by Mr. Devdhari Karmali establish perfect rapport with villagers and motivate them to be a part of the change. The yatra will continue up to 20th March 2018.