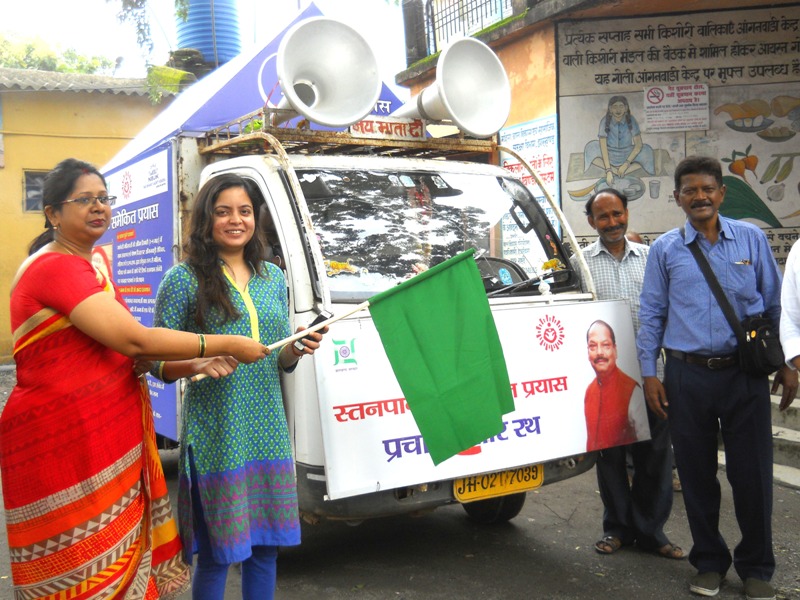 01 August 2017, Hazaribag: UNICEF, Department of Social Welfare, Plan International and NBJK have started a combined awareness campaign across Hazaribag district during World Breastfeeding Week from 1 – 7 August. The campaign van with audio-visual publicity materials was flagged off by Ms Garima Singh (Trainee IAS Officer) and Mrs. Veena Kumari (District Social Welfare Officer, Hazaribag).
Dr. Vijay Shankar Das (Civil Surgeon, Hazaribag), Mr. Ashwini Chaurasiya (Regional Coordinator, UNICEF), Mr. Sanjay Prasad (District Child Protection Officer, Hazaribag), Mr. Ranjan Kumar (Program Manager, NBJK) and Mr. Alok Toppo (Asst. Program Manager, NBJK) were present on this occasion to goodbye the Campaign Van. The van with volunteer will cross through more than 100 villages of Hazaribag Sadar (rural & urban areas), Churchu, Katkamsaandi, Daroo, Vishnugarh, Daari, Katkamdaag and Barhi blocks of Hazaribag district.
Its objective is to promote breastfeeding for babies & small children by making people, especially mothers aware about inbuilt immunity potential of mothers' milk and its benefits for children. We want to disseminate the message that only mother's milk should be provided to babies up to 6 months of age and also other important topics like nutritional food, vaccination, clean drinking water, growth monitoring, cleanliness & hygiene will be covered under the campaign, Mr. Alok Toppo has informed.