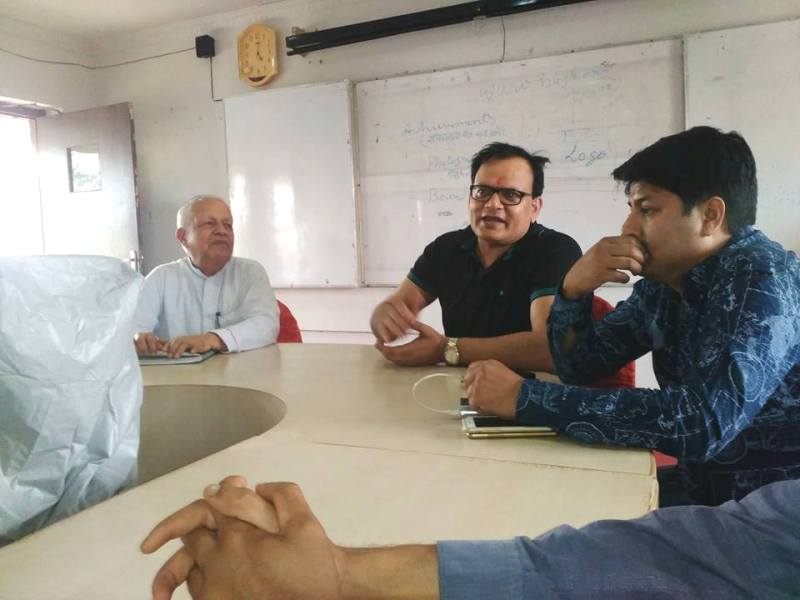 20-21 April 2017, Hazaribag: Mr. Ajay Kumar Singh, an IRS officer and the main character of the film "Ajab Singh Ki Gazab Kahani" has paid a promotional visit at NBJK office on 20th. He has addressed a meeting with the team NBJK and appealed all to see the movie that depicted his life story against all the physical and socio-economic odds.
Mr. Singh was born in an extremely poor farmer's family and he lost his eyes & ears, became partially deafblind due to an accident during his childhood. His parents couldn't afford proper medical treatment in time. But Mr. Singh's genius and his deep commitment to the dream of parents has opened new pages of life that he wanted to share through this biopic directed by Mr. Rishi Prakash Mishra.
This is first time in Indian film history that the same person has replayed own role based on his real life events. The Hindi movie Ajab Singh Ki Gazab Kahani was released on 21st April nationwide and featured Ajay K. Singh himself as Ajab Singh along with Yasika Basra, Ishita Ganguli, Archna Prasad, Yashpal Sharma, Vikas Giri, Rajesh Jais, Amit Kaushik, Govind Namdev, Mukesh Mishra as different characters. Music is contributed by Tanmay Pahwa and Ved Sharma with singers like Prithvi Raj Singhdev, Krishna Beura, Tarannum Mallik, Shabab Sabri, Rohit Akhouri and Anindya Chakrabarty. The film is produced by Binod Kumar, edited by Anil Ray and cinematographed by Saravanan with Elavarasu.
NBJK staffs and their family members have watched the movie at Laxmi Cinema Hall, Hazaribag. They appreciated An Unconventional Journey of a Handicapped IRS officer and responded with different views to make the film more motivating. NBJK office management has granted half day leave and subsidized tickets to its staffs for this special show.