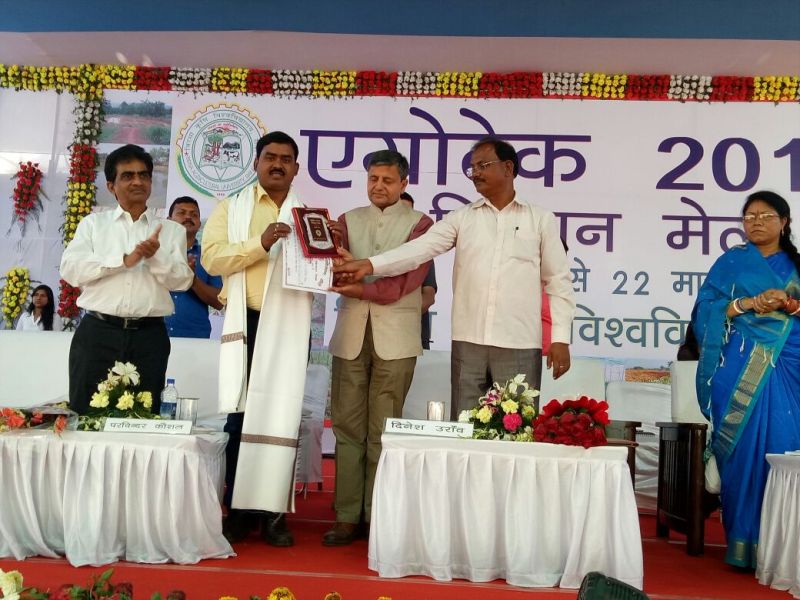 30 March 2017, Ranchi: Jan Sahyog Kendra, Village-Gudwa, Post-Sitagarha, Hazaribag became a recipient of Agrotech 2017 Jharkhand Award by Birsa Agriculture University during 20-22 March. JSK is a partner organization promoted by Nav Bharat Jagriti Kendra under the program of Support to Social Activists for Facilitating Food Security & Mental Health Service with help of BFW, Germany.
The VO is headed by Mr. Narendra Kumar Mahto and NBJK has encouraged him to work on agriculture promotion in 15 villages of Tatijhariya, Vishnugarh, Gomiya blocks of Hazaribag and Bokaro districts. Jan Sahyog Kendra works with tribal people in remote villages and its work has been recognized by not only us but the government also, Mr. Rajiv Kumar Singh (Program Manager, NBJK) has informed. He congratulated JSK for the achievement. Agrotech 2017 Jharkhand Award was conferred to Mr. Narendra Mahto by Mr. Dinesh Oraon (Speaker, Jharkhand Legislative Assembly) who presented a memento and certificate to him. Mr. Parvinder Kaushal (Vice-Chancellor, Birsa Agriculture University) has decorated him prestigiously with a shawl.
It's remarkable that Jan Sahyog Kendra enabled tribal people to grow horsegram, ragi, sarguja in barren land and paddy varieties like Sahbhagi IR 64 for dry areas. Also they cultivate wheat, green gram and earn from piggery, poultry etc. The organization has assisted these peasants for water harvesting also.