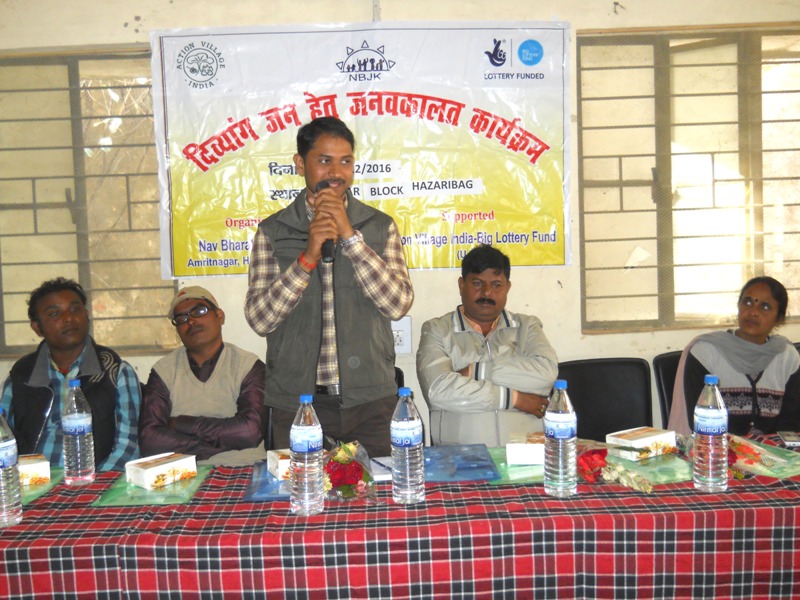 29 December, Sadar block (Hazaribag):  An advocacy event for PwDs was organized at Hazaribag Sadar block premises under NBJK run Disability Rights program with support of AVI-BLF, UK. This was inaugurated by Mr. Vijay Kumar (MLA Representative) and Mr. Ranjan Choudhary (Media In-Charge of MLA) in absence of Mr. Manish Jaiswal, local MLA.  The MLA Representative has appreciated the advocacy for rights to PwDs and insisted for such events in far-flung villages to sensitize people. He assured that the MLA will support PwDs to address their problems at different forums. Mr. Ranjan Choudhary has termed politics as a means of social service and promised that PwDs issues will be raised by the MLA in Jharkhand assembly.
Before this, Mrs, Sujata Prasad (Program Manager, NBJK) has welcomed the guests with all participants and introduced the program as a platform to work around entitlements, education, skill development, rehabilitation, self-reliance of PwDs and social sensitization to them. Md. Nayeem (APM, NBJK) has considered systemic support necessary to reduce problems with PwDs. On this occasion, Mr. Rajkumar (President, Viklang Vikas Jan Kalyan Sangh) has referred different laws passed in favour of PwDs time to time but couldn't deliver much substantial. He was for more participation by the beneficiaries. VVJKS, the DPO has submitted a 10 points memorandum to the MLA representatives. Sister Veronica (St. Michael Dumb-Deaf School) has demanded to appoint Audiologist Doctor at Hazaribag and got full support from the audience.
There were 60 PwDs from villages like Jagdishpur, Hutpa, Silwar, Pauta, Turanw, Mandai, Babhanwai, Harhad, demotand, Mukndganj and town area were present in the advocacy event. The district program team under coordination of Mr. Annu Kumar has organized the event.