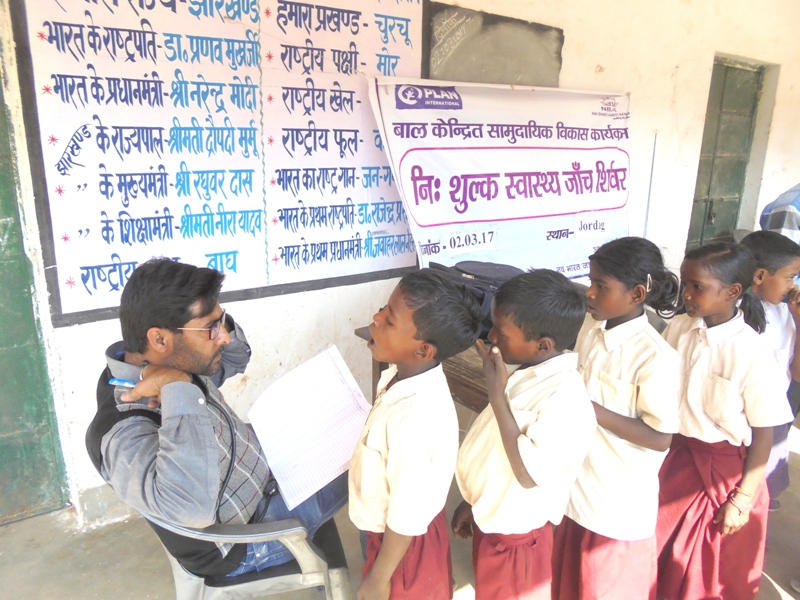 January-March 2017, Churchu (Hazaribag): There were a lot of activities held under Child Centered Community Development program in villages of Churchu block, Hazaribag. Baby Show was organized at 11 villages of Churchu, Chenaro and Ango panchayats from 13 to 23 January. The activity aimed to reduce stunting in children below 5 years of age. Likewise Mothers' Show took place on 16 & 17 January in 10 villages of the same panchayats to inculcate healthy child rearing practices among 338 mother participants. In this quarter, 1418 patients from 23 villages got free medical checkup and treatment with special focus on Haemoglobin & Body Mass Index test for adolescents. On 18 January, Infant Young Child Feeding orientation was provided to 44 AanganWadi Workers, Sahiyas and active mothers on importance/proper method of breast feeding.
On 8 February, block level management committee meeting was called to discuss issues and good practices in intervention area. Total 59 participants including BDO, CDPO, Medical Officer, Lady Supervisor, AanganWadi Workers, ANMs have participated in the meeting to ensure timely registration of pregnant women, proper coordination, monthly cluster meeting, use of ANC table and pregnant women calendar. On 10 & 13 February, 85 adolescent girls were provided orientation towards sexual and reproductive health. Block medical officer was the resource person who discussed about child marriage, early pregnancy, Anemia, Menstrual hygiene etc. On 21 February, one day capacity building training on Home based natal care was held for 30 Sahiyas, Sahiya Sathis and Aanganwadi workers to sensitize them upon reduction of preventable new born deaths.
Also an orientation on Swachh Bharat Mission and achieving ODF has led 78 PRI members to know about proper disposal of human excreta and total sanitation of their village or panchayat. 83 Village water sanitation committee members, Jal Sahiyas, Aanganwadi workers and Sahiyas have got the chance to orient themselves on the same separately. During February and March, there were community meetings in 7 villages for periodic monitoring and community sensitization upon ODF. Total 554 community members have contributed in these meetings.