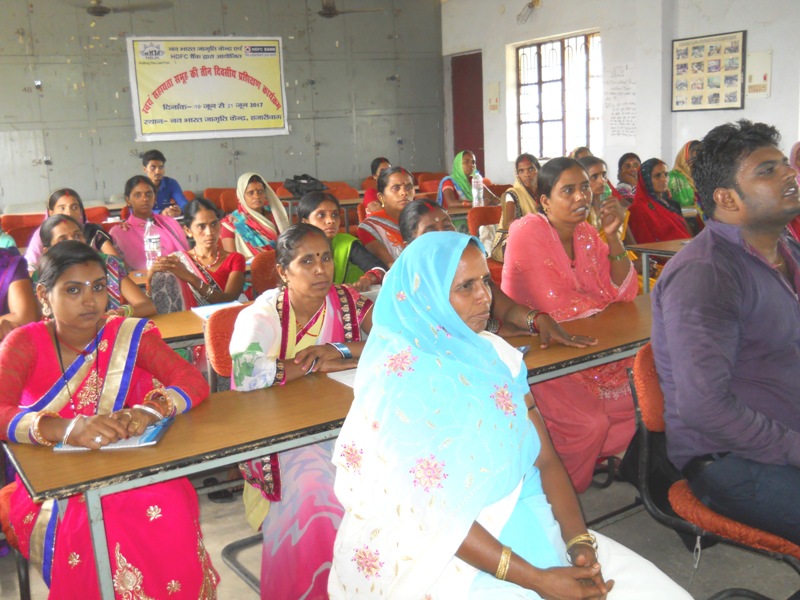 19 – 20 June 2017, Koderma: 27 group members/office bearers of 5 Women Self Help Groups namely Kamla, Gangotri, Devi, Bajrang and Gita Mahila Mandals from Pahridih, Dasgharwa, Charadih, Buchitaand villages of Jaynagar and Koderma Sadar blocks have gone through an orientation training under Holistic Rural Development Program (HRDP) with support of HDFC Bank. They have been introduced towards the very concept of group formation and its role in their socio-economic development.
The trainees have learnt about the objective of any SHG, rules & regulations, selection of office bearers and their duties. They came to know about benefits of regular meeting, saving and actions required during such dealings. Mr. Santosh Kumar Sinha (Block Credit Officer, SHGs) and Mr. Ashutosh Mishra (Asst. Program Coordinator, SHGs) were resource persons for the training and they facilitated the trainees regarding necessary documents like Group/Individual Passbook, Ledger Book, Meeting Register, Saving Register, Internal Transaction Register etc. They have conducted a collective game to show group sustainability. Later all the groups have presented their learning and demonstrated for meeting.
Also Mr. Subhash Pandit, Ms. Gulnaz Ayesha, Mrs. Sudha Devi, Mrs. Rina Devi (all community mobilizers), Mr. Rahul Saw (Asst. Prog. Manager) and Mr. Raunak Rituraj (Office Manager)  from HRDP team have participated in the training organized at NBJK Coordination Office, Hazaribag.