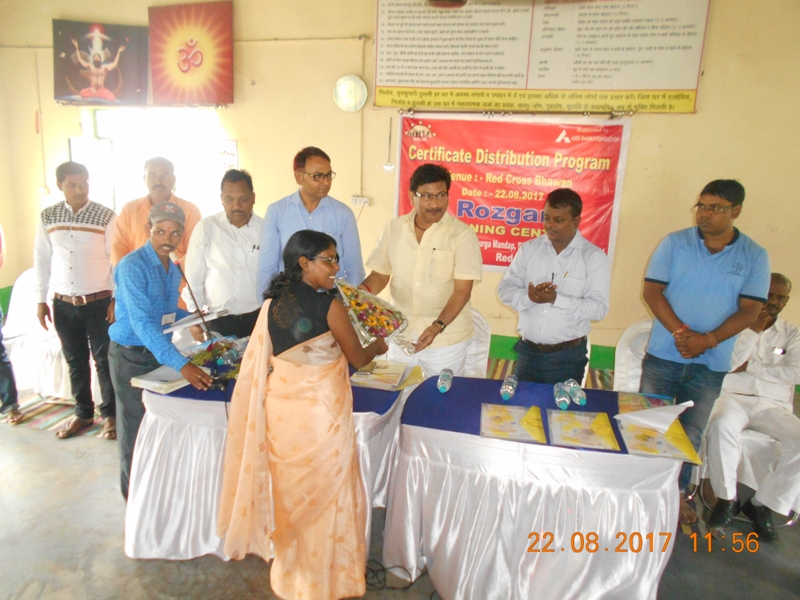 22 August 2017, Giridih: Rojgar Training Center (RTC), Giridih has felicitated its 120 youth trainees during a certification ceremony graced by Mr. Nirbhay Kumar Shahabadi (MLA, Giridih) as the chief guest. RTC, Giridih is one among 11 RTCs being run at 10 district headquarters of Jharkhand under Program for Sustainable Livelihood with support of Axis Bank Foundation, Mumbai.
Mr. Shahabadi has distributed course completion certificates among the trainees finished their three months training in the trades of BCA, Tally, DTP, Beautician, Electrician, Tailoring and General Duty Assistant. Just getting certificates can't be any objective of this event but we hope for employment or self-employment for the youths, now equipped with various skills required for our livelihood purpose, the MLA opined during that function held at Red Cross Building, Giridih. Mr. Nirbhay Kr. Shahabadi has said that youths cover 63% population of India and our Government too executes many youth friendly schemes. He commended NBJK and Axis Bank Foundation for running such skill development program for youths, particularly for women/girls from rural background.
Dr. (Mrs.) Aarti Verma (Lecturer, R. K. Women's College-Giridih) has appealed for hard work by the youths in search of job or to start own business as per their learnt skill. Other dignitaries like Mr. Devendra Prasad Singh (Head Master, JC Bose Girls' High School), Dr. N. P. Nayar, Mr. Shailendra Kumar Sharma and Mr. Raj Kumar Pathak have expressed their views and encouraged the passing out trainees.
Earlier Mr. Anjani Kumar Sinha (Center In-charge) has welcomes all the guests and participants. He has assured for quality skill training among youths of Giridih by RTC. A team comprised by Messrs Anshumaan, Shreya Ghashal, Vikas Mishra, Pramod Kumar, Gudiya Kumari, Shilpa Kumari, Rumana Amzad, Rajkumar Pathak, Sadanand Prasad, Sunil Kumar has organized the program.