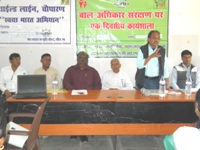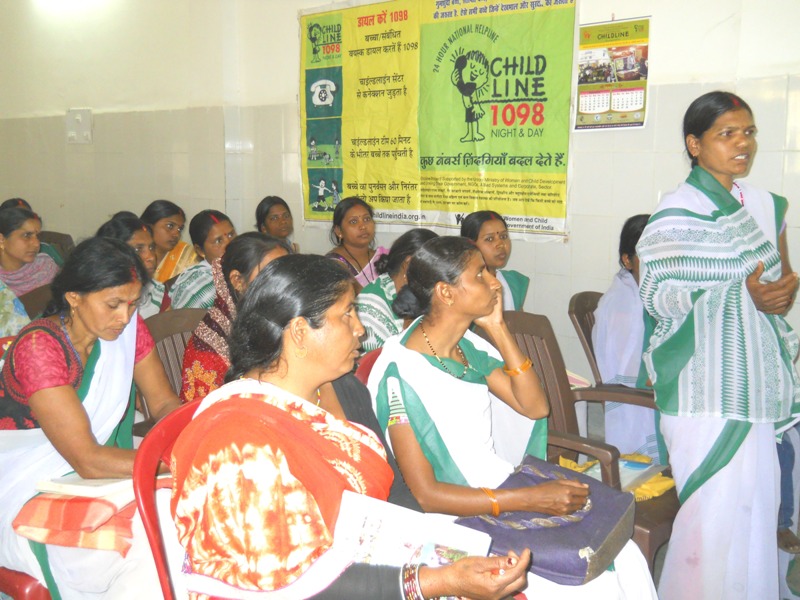 21February 2018, Chouparan (Hazaribag): A workshop upon Protection of Child Rights with village health workers or Sahiyas was organized as an activity of the project of Childline1098 with support of Childline India Foundation, Mumbai under aegis of Ministry of Women and Child Development, Government of India. The workshop was held at Community Health Centre, Chouparan and inaugurated by Dr. Yogendra Singh (Medical Officer) with Messrs Prabhu Nath Sharma (Treasurer & Programme Director, NBJK), Chandra Kumar (City Coordinator), Rupesh Kumar (Collab. Representative), Rahul Sheetal and Taleshwar Ram (Samadhan) and senior Sahiyas.
Dr. Yogendra Singh applauded the programme of Childline 1098 and said that our children have right to be healthy. Sahiya Didis can monitor village children to provide them support in time, he said and assured for full cooperation to the causes of children. Mr. Prabhu Nath Sharma has stressed upon the need of safe childhood for a humane society and expressed his sincere concern over violation of child rights, specially the right to their protection. Mr. Chandra Kumar has briefed about Adoption Law for the people lack own children but willing to adopt any orphan child while Mr. Rupesh shared about Childline activities in Hazaribag during last year. There were total 347 cases we intervened within the period with highest 46% cases of abuse, he revealed. Mr. Rahul Sheetal presented main features of POCSO Act, Child Welfare Police Officer at police stations and other systemic changes to help any child in need of protection.
During the workshop, an animation film Komal was shown to the participants that drawn their attention to child abusers and defence strategy for children. Mr. Narayan Rajak (Childline Team, Chouparan) cautioned for child marriage in villages and reminded about responsibility of Mukhiya and PRI members to check such incidents. Mr. Brij Nandan Singh (Block Coordinator, Lok Samiti) has anchored dais and the workshop was concluded after vote of thanks by Mr. Birendra Kumar Sinha (Team Leader-Childline, NBJK).