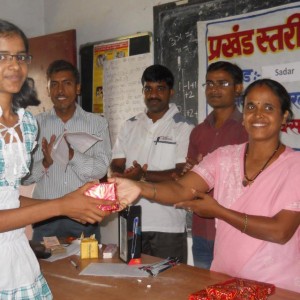 Due to poor teaching at government schools, it has been observed that students reaching class 10th do not know even fundamental of subjects like Maths, Science and English. Naturally they lose interest in subjects and ultimately add the number of either dropout, fail or pass outs with very poor marks in their matriculation.
NBJK has felt the gravity of this problem related to rural school children and decided to support them to furnish their education with quality by opening of Remedial Coaching Centres (RCCs) in Hazaribag district of Jharkhand, with the kind support of Axis Bank Foundation.
There are 100 RCCs providing coaching to more than 4000 students of class 8th, 9th and 10th, in 80 villages of Hazaribag. Regular coaching is provided on Maths, Science and English. Extracurricular activities are also organised for their overall development.
These teachers get orientation & training time to time to upgrade their teaching skill and performed well as RCCs have secured better academic result in comparison with district or state wise average results.
What is the need?
About 85 % population of Jharkhand lives in rural areas. The quality of education at government schools is not up to the mark. Negligence of teachers affects the education of many children of villages in terms of knowledge and academic results. It has been observed that students of class VIII do not even know about simple multiplication, division, etc.
10th is the "Gate-Way" of carrier for any student. If a student does not get good marks in Matric (10th) exams or fails the exam then, it is very difficult for the students to get in to good college for higher studies. This affects their whole life.
People in villages are neither very serious about education nor they are educated that they could help children in home. Private Coaching Classes are situated near town areas and are very costly. Poor children of villages cannot afford for the private coaching, if they want to get better understanding of subjects like Maths, Science and English.
Girl students most affected, as they are not allowed to go to town alone even for the studies and being dropout, they are married very soon.
Our Approach and Achievements
NBJK is one of the most renowned organisations of Jharkhand and Bihar. It has been working for past 43 years at the grassroot level for the development of poor and marginalised section of society.
Feeling the gravity of situation, NBJK with the kind support of Axis Bank Foundation, started 100 Remedial Coaching Centres (RCCs) in Hazaribag district of Jharkhand.
To make RCCs easily accessible by the rural students, these centres are established in the village. Students of Class VIII, IX and X get coaching by experienced faculties on Maths, Science and English. For the overall development students co-curricular activities are organised regularly. To improve the quality of teaching models/projects/TLMs are used.
Faculties of RCCs visit homes of children who are weak in studies. They also visit and counsel the parents of girls about the importance of education and make them aware of effects of early marriage of girls.
Rural students who were earlier either dropout or score very poor marks in Matriculation exams, through RCCs are now scoring better than even the result of town students. Last year, the result of RCCs was 94% while the result of whole Hazaribag district was 70%. About 4500 students each year get benefit of the RCCs.
RCCs have also helped in delaying the early marriage of girls and have checked the dropout rate of students.
Still much to do…
About 70% of children dropout of schools from Class 1-X. One of the main reason poor teaching at govt. schools resulting in lack of interest in students
85% of population lives in villages where there is lack of good coaching centres
People are so poor that they could not afford for private tuition of children. This affects the result of class X, which is gateway of carrier.