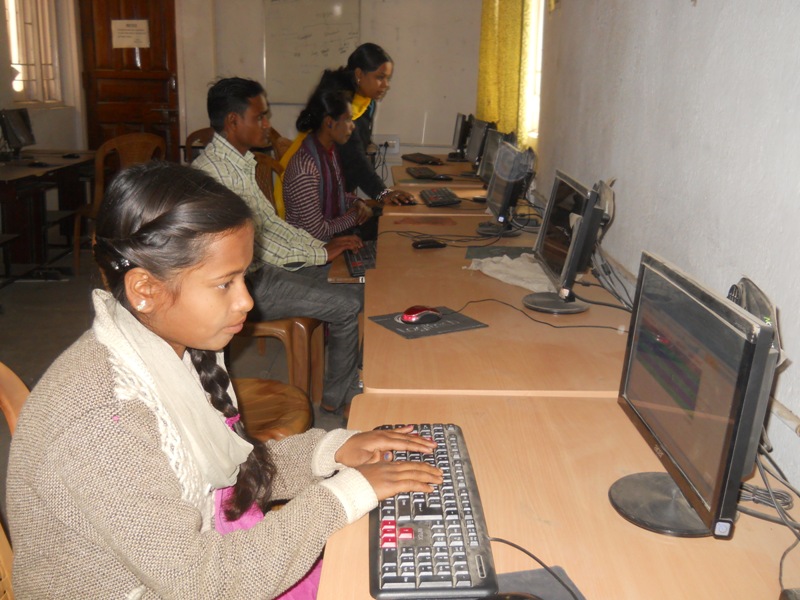 Rozgar Training Centre at Kalibadi road in Hazaribag by Nav Bharat Jagriti Kendra under Program of Sustainable Livelihood with support of Axis Bank Foundation, Mumbai has trained 859 youths in trades like software, hardware & networking, bedside patient attendant, mobile servicing, beautician and tailoring within the period of last one year. They come from weaker families of Hazaribag and neighborhood villages where traditional means of livelihood diminished and schools/colleges lack skill development classes. NBJK runs RTCs at Ramgarh, Koderma, Ranchi (2 centers at Piska More ad Hatia), Khunti, Jamshedpur, Dumka, Giridih, Deoghar and Dhanbad also.
Mr. Rupesh Mallik (Center Coordinator) of RTC, Hazaribag has asserted about placement or self-employment for 580 such pass outs of 4 batches with 3 months training for each. 5th batch is under training with their selected courses and all our trainees can avail account facility with Axis Bank under Jandhan Yojna, he said. The center has advance class rooms with computer network and audio-visual demonstration competence. The trainees get extra classes on life skills, financial inclusion and personality development besides practical knowledge of their chosen trade. RTC supports it's trainees for placement too. Mr. Kirti Rawat (Placement Coordinator) explains that trainees under certain trades like mobile servicing, beautician and tailoring prefer for self-employment while the very course of bedside patient attendant is popular among girls of rural background and they are being placed by nursing homes, private clinics easily. Our trainees get OJT (On Job Training) at government or private enterprises like an internship program as they cooperate with us, pointed out Rawat.
RTC has earned a reliable image and credibility amid employers like Aegis Global, Shri Ram Finance, and Reliance Face to Face as they recruited youths trained here and more demands come from various sectors like microfinance, insurance, NGOs, hotels, schools and malls. Mr. Ankit (faculty) who teaches hardware here, finds RTC handy for entry level job but quality of the training matters in the long run, he assures.